Bestival was created by Rob Da Bank about 12 years ago and was solely based in the UK. This year, they decided to bring it overseas to North America and chose to do it in Toronto on the Toronto Islands.
You may have seen my Instagram photo I posted on Thursday saying I got a sneak preview of Bestival, or my Snapchat stories (JanineMar) of the weekend. To fill you in, my cousin, Cecile, and I got media passes to Toronto's first Bestival Festival and along with other media outlets, were given a preview the day before Bestival started. At the media preview, we were surprised Keys N Krate's new interactive music video for their song with Katy B called Save Me. Afterwards, they did a Q&A too which was pretty cool. All this hype and we couldn't be more excited to go and experience the first year of Bestival in North America.
We took tons of photos, tried to experience everything Bestival had to offer and managed to stay dry through the rain. We went on the first day and captured it all. Warning: tons of photos ahead!
FESTIVAL FASHION
The UK really brought their weather with them on the Friday of Bestival! It was gloomy and rainy but that didn't stop everyone from having a good time and wearing their festival gear. Seriously, I saw some crazy cool costumes.
Since it was raining, I opted to wear my new Hunter Boots. I always see festival go-ers, especially in the UK, wear Hunter Boots so I thought it was fitting. My dress is a swing dresses aka my new "thing." They are so easy to wear and it looks good on all body shapes. To accessorize, I went with my most worn statement necklace.
Shop The Look Here:
THE BOLLYWOOD STAGE
This stage was wicked. So much detail and effort was put into it and it definitely paid off. During our media preview of Bestival, the stage was still coming together and when I saw the final product, I did not expect it to look as good as it did.
The music at this stage was more chilled drum & bass which I enjoyed. In the photos below, the DJ that is playing is Rob Da Bank, AKA the creator of Bestival. How cool!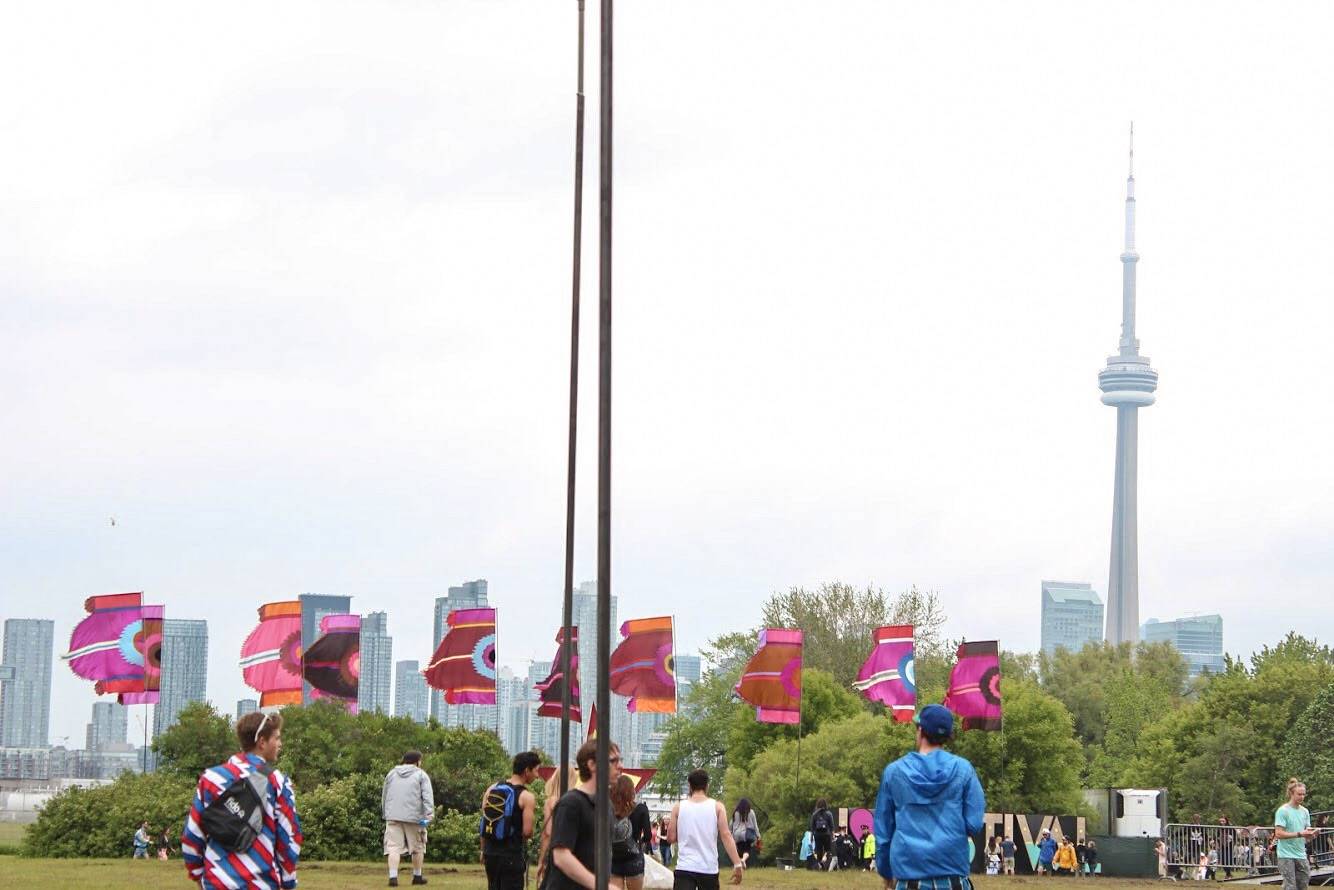 THE INFLATABLE CHURCH
Random but fun things you'll find at Bestival... an inflatable church! People were dancing and singing inside and someone may or may not have actually gotten married?!
Side note: The image below is of the main stage of a band called Magic Man. They were on our ferry to the island but we didn't realize they were actually a band playing at Bestival until we saw them on the main stage.
VIP AREA
The VIP area included media and VIP ticket holders. The area had a large tent with a bar and seating areas which was nice since it was raining throughout the day. It was also the perfect spot to watch and listen to artists playing on the main stage. But my most favourite part of this area was this bright floral tree. So many details Bestival put in that really pulled everything all together.
SUNDAY BEST BEACH CLUB
Rob Da Bank created the "Sunday Best Beach Club" before Bestival was created. At the area Bestival was being held, there was a walkway to the beach where the beach club was. There they had a bar, a chilled area with a tent, and of course the DJ. It was a cozy area by the water that I really enjoyed. I could only imagine how lively it would have been during the sunset.
DINE AT BESTIVAL
I figured security would let us bring wrapped snacks in but that wasn't the case. I honestly did not expect there to be so many food truck option that were actually reasonably priced and with a variety of choices. There was everything from wood oven pizza to shawarma to bacon to mini donuts. Cravings = satisfied.
Near the VIP Area, there was the famous Bestival bar selling well-known Bestival drinks. The bar was inside a school bus that was painted black with funky skulls and florals. I purchased their most popular drink called Best Evil, and it was something out of the ordinary. Strong tastes of alcohol (which is what most people want) and a salty brim.
By the way, how cool is one of the bartenders? I love that half painted sugar skull face.
ACTIVITIES
As far as I know, most other festivals are mostly music. Nothing else to do except hang around, eat, drink and dance. Bestival had so much more to do than that. Some include a face painting area, tree knitting and big jenga.
THE "CHILL OUT" AREA
There was also a chill out area aka Fido area with hammocks and bean bags.
PERRIER GREENHOUSE
This Perrier greenhouse was kind of hidden away from the main music stages. Smaller, mostly Toronto based artists played here. It was a 19+ area with some insanely cool music. I found so many artists I never knew of before through this greenhouse like The Kount.
The vibe of this place was unlike any other stage. It was a "feel good," "life's freaking awesome" kind of vibe. Also, since it was so small, the artists were more personal with the audience.
MAIN STAGE
The main stage was where Florence and the Machine, Nas, Banks, Robert Delong and other fantastic artists played. The photo above is of Robert Delong. His set was incredible. I don't even know how to describe it because it was so unique. To give you an idea, he controlled the sound waves with a Wii controller and created other beats with other types of video game controllers. Like, how is that even possible?
BIG TOP BACARDI STAGE
The Big Top Bacardi stage is where I wish I could have spent my entire day but didn't because there was so much more to Bestival. This stage was focused on Trap and EDM music with artists like Flosstradamaus, Flume, and SBTRKT.
The artist I was most looking forward to seeing in this tent was SBTRKT. I've been obsessed with one of his songs called Wildfire since it's release about 4 years ago and I would have never imagined to hear his set live. It was all so good.
All I have to leave you with is if Bestival comes back next year to Toronto, you need to go and experience this unreal festival. I know that I will definitely be back and hopefully be able to go to Bestival in the UK one day too!
If you went to Bestival in Toronto or the UK, what was your favourite part about it? Who were your favourite sets to listen to?